It is important to understand the male skincare regimen to get maximum results. Doing a skincare routine with the right skincare regimen can be a form of investment in facial skin health.
Not only for women, this routine also really needs to be done by men. In use, choose the right facial care products. Starting from the content to the needs of the skin. This is because skincare needs based on skin type are of course different.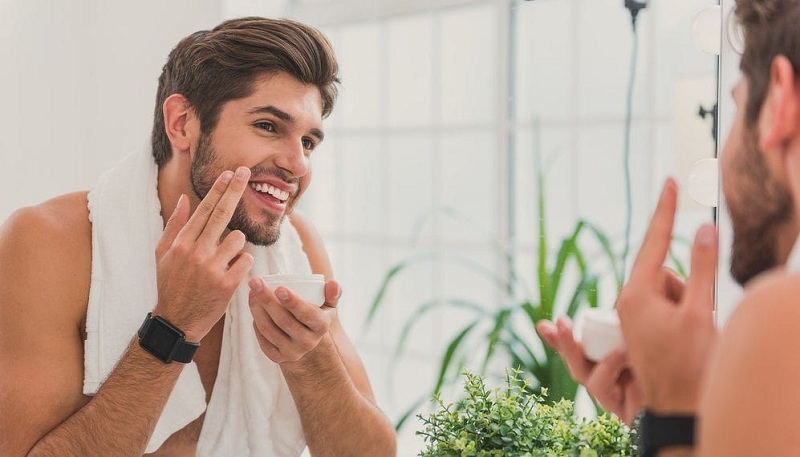 The Right Male Skincare Regimen
For some men, they may feel confused when they are going to use facial care products. It is important to note that you need to know how and in what order to use the correct skincare.
So that the results will be maximized and make the skin clean and healthy. Following are the Male skincare regimens that you need to pay attention to, including:
Basic Regimen
There are three main steps in basic facial skin care, namely cleansing, exfoliating, and moisturizing. However, not all of these steps are carried out simultaneously. The right steps you can take are
Clean your face regularly
It is better to wash your face 2 times a day. In the morning aim to clean all the products that are applied at night and clean the sweat and bacteria that have accumulated at night. Then wash your face at night to start your bedtime regimen.
Exfoliate your face
This step aims to remove dead skin cells so that it can make the skin brighter, smoother, and softer. Do this process 2 times a week.
Use of Moisturizer in the Morning and Evening
Using a moisturizer can protect facial skin. Using SPF in the morning can protect your skin from UV rays.
This moisturizer for the morning or afternoon has a slightly lighter formula compared to the night moisturizer which is more proactive in nourishing the skin.
Intermediate Regiment
If you want to move from a basic skincare routine to a more proactive regimen, then the products you should use include:
Facial Serum
You can apply this product after cleaning and before using moisturizer. Use a serum with hyaluronic acid which can penetrate deeper into the skin and provide moisture to facial skin so that the skin remains nourished from within.
Eye Cream
Eye cream is a product with the densest concentration to maintain the delicate skin under the eyes.
Face Mask
Use a face mask at least once a week. The most common categories of types of masks are deep nourishing and deep cleansing, which have their respective benefits.
Toners
This product is useful for balancing the skin's pH level while reducing sebum production on facial skin.
Advanced Regimen
In this step you can use some essential products like:
Retinol and Bakuchiol
Retinol is a derivative of vitamin A and one of the best products that can treat signs of premature aging. As for Bakuchiol, it is a natural alternative for more sensitive skin
Vitamin C
This is useful for increasing skin brightness and reducing discoloration and hyperpigmentation.
By applying the Male skincare regimen properly and correctly according to your skin's needs, you will get maximum results. Facial skin will appear cleaner, brighter, and cared for.